Danh mục nội dung: Chuyên mục chính/3. Hệ thống, công cụ và thiết bị phát triển sản xuất điện tử/3.5. Thiết bị gia công sản xuất, chế tạo bo mạch điện tử PCBA
◊ Đặc điểm chính:
According to the actual application requirements, Biuged offers three different types of thickness gauges which combine the Hall effect and Eddy current principles to measure the thickness of non-ferromagnetic coatings on ferromagnetic metal substrates(iron, cobalt, nickel and gadolinium) and the thickness of non-conductive coatings on non-magnetic metal substrates(copper, aluminum, magnesium, zinc, chromium, etc). The instrument is widely used in metal processing, coating, hardware, shipbuilding, aerospace and other fields.
◆ Iron and aluminum dual use. Identify substrate automatically, and fast automatic conversion. (BGD 542/S&BGD 543/S)
◆ Sensitive response, and the data can be measured in 0.5 seconds.
◆ With simple design and small size, it is easy to carry and operate.
◆ Ruby probe has abrasion and corrosion resistance, which ensures long service life and can avoid errors caused by wear.
◆ Two units of μm/mil can be selected.
◆ The advanced digital probe is used to keep the zero position stable for a long time without drifting. The test data is stable after testing the same position for multiple times.
◆ The thickness gauge adopts unique algorithm to solve the linearity of the instrument and ensure measurement accuracy. It doesn't need to be calibrated, only need zero adjustment.
◆ The good repeatability to ensure that it passes the inspection of Chinese national metrological testing.
◆ Available in three different modes: Fe mode, NFe mode and Fe/NFe mode (BGD 542/S&BGD 543/S)
◆ Conform to standards: GB/T 4956-2003 Non-magnetic Coatings on Magnetic Substrates-Measurement of Coating Thickness-Magnetic Method, GB/T 4957-2003 Non-conductive Coatings on Non-magnetic Basis Metals-Measurementof Coating Thickness-Eddy Current, DIN EN ISO 2808 Paints and Varnishes-Determination of Film Thickness, JJG-818-2005 Verification Regulation of Magnetic and Eddy Current Measuring Instrument for Coating Thickness. (BGD 542/S&BGD 543/S)
◆ BGD 547 is specially designed for measuring the thickness of ultra-thin coatings below 10μm, and it adopts ultra-thin probe design, which is especially suitable for measuring coatings on small workpieces such as screws and bolts. The probe adopts digital oscillation technology and high-speed ADC acquisition, which ensure that the instrument has ultra-high measurement accuracy and repeatability. In addition, BGD 547 also has the function of data statistics, which can store up to 9 measurement values and automatically calculate the maximum, minimum, average and standard deviation of the measured data.
Technical Parameters & Order Information:
Ordering Information →

Parameters ↓

BGD 542/S

BGD 543/S

BGD 547

Probe

Integrated probe

External cable probe

Substrate

Metal materials

Magnetic metal

Measuring Range

0.0-2000μm

0.0-500μm

Resolution

0.1μm(<100μm);1μm(100μm~999μm);10μm(>1000μm)

Accuracy

≤±(3% reading+2μm)

≤±(2% reading+0.3μm)

Minimum Curvature

Convex: 5mm / Concave: 25mm

Convex: 1.5mm / Concave: 10mm

Minimum Measuring Area

6mm2

Diameter: 7mm

Minimum Substrate Thickness

Fe: 0.2mm / NFe: 0.05mm

0.1mm

Display

128×48 dot matrix LCD

240×160 dot matrix LCD

Power Supply

2pcs of 1.5V AAA alkaline battery

4pcs of 1.5V AAA alkaline battery

Dimension/Weight

101mm×62mm×28mm/79g (with battery)

148mm×76mm×26mm/194g (with battery)

Optional Accessories

USB online cable and software, Bluetooth adapter and software

Hand test fixture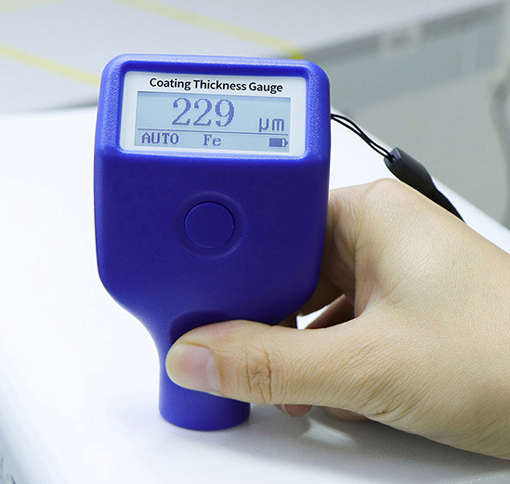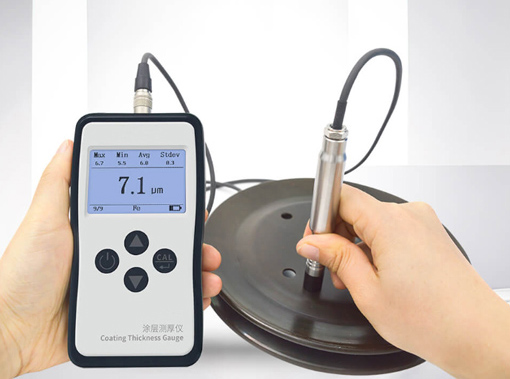 CÁC SẢN PHẨM KHÁC CÙNG NHÀ SẢN XUẤT / OTHER PRODUCTS FROM Biuged